The Best Basement Finishing In Washington, DC
Interested in taking the first step toward a fully functional basement?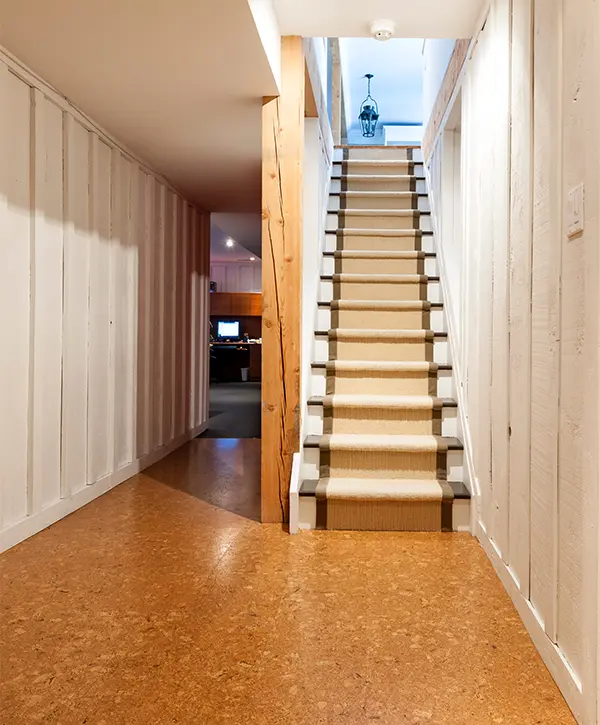 Thinking about starting a basement finishing project in Washington, DC? What would you say if you've just found the best fit for your upcoming investment?
Capstone Waterproofing Solutions helps homeowners in Washington, DC, and surrounding areas increase the value of their homes with a cost-effective and highly-reliable basement finishing service.
You'll work with a skilled and experienced team that will help you unlock the true potential of your basement the easy way!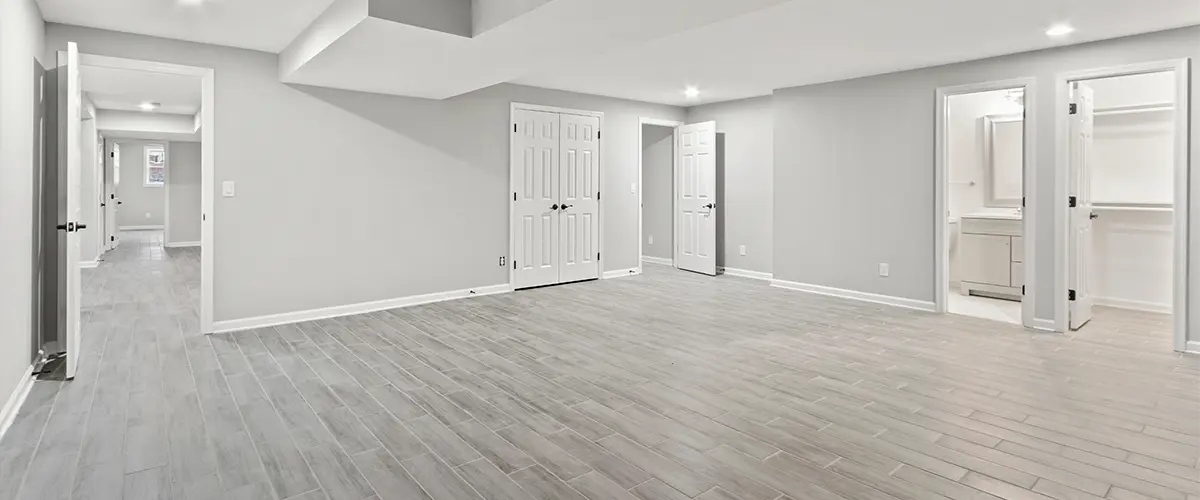 A Basement Finishing In Washington, DC That Keeps On Giving
Here at Capstone Waterproofing Solutions, we're not just meeting your expectations, but we're working extra hard to exceed them! You'll enjoy a reliable team with a lifetime of experience in finishing basements and helping homeowners make a real investments.
Make The Most Out Of Your Home With A Finished Basement
Overlooking the actual value of a basement is very common among homeowners. People seem not to realize that beneath their actual living space, there's a space filled with opportunities that make their homes so much better!
Finishing a basement is said to bring a tremendous ROI. This is a valuable investment from a financial standpoint but also a practical one.
A safe and healthy basement means you can remodel all that space and get a second living space with a bedroom and bath, a man cave so you can kick back with your friends, or even a gym to work out on your own terms!
But finishing your basement with the pros from Capstone Waterproofing Solutions guarantees you much more than the usual benefits. With us, you're getting a high-quality basement you won't need to work on for the rest of your life!
Your Neighbors In Washington, DC, Love Their New Basements!
We've had the pleasure of working with hundreds of homeowners in Washington, DC, on their basement finishing projects. They've all received a quality job and the best perks of working with a professional!
Capstone understands the science of waterproofing. This company gets it. Excellent service. 
Clean work, true professionalism, and willing to teach you about how their work is going to keep your basement dry. 
Big shout out to Joe and team! They really made us feel comfortable throughout the process. They are not trying just trying to sell you a service, they are helping you protect on of your most valuable investments , as well as your health. 
I recommend these guys in a heartbeat !
In June 2022, Capstone Waterproofing performed an awesome job waterproofing my basement. 
Joe exemplified optimal professionalism. He was very patient with explaining the work to be performed and responding to all my questions. The team that was selected to provide my service, arrived on time and completed the job timely as promised. 
They left my basement as cleaned as before their arrival. I am very satisfied with the outcome of the job performed and I would highly recommend Capstone Waterproofing.
What Will Your Basement Finishing Include
Basement finishing is an extensive project with many facades. There's a lot of work involved, but our complete service aims to take care of everything. Working with us means you won't need anyone else to see your vision through. Here's what our service entails:
Wall framing in basements is an important step in basement finishing. It involves the construction and installation of framing, which acts as a support system for all other components of the basement, like drywall, insulation, and electrical wiring.
Wall framing aims to provide a strong and secure foundation for the entire structure, so you won't have to witness foundation cracks or worse scenarios.
Wall framing is often done with pressure-treated lumber, but nowadays, many homeowners opt-in for steel beams that offer a much more reliable structure for your home. Most often than not, you'll want your basement to be as resistant as possible.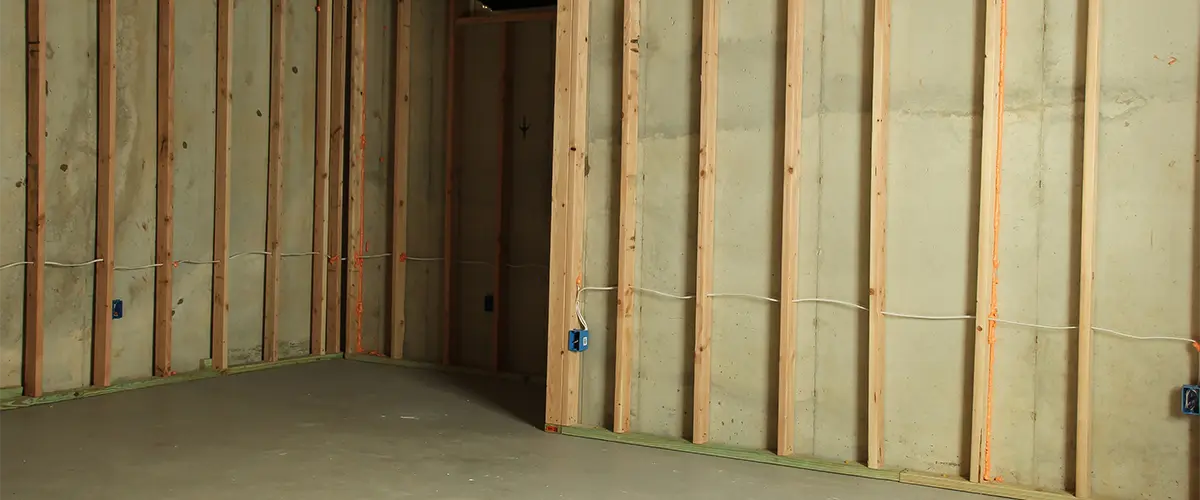 Basement waterproofing is one of the most important steps in finishing a basement.
Waterproofing means ensuring your basement and foundation walls won't succumb to water damage or long-term water-related issues like mold and mildew.
We specialize in waterproofing basements, and we've been doing it since our day one. We bring cost-effective and highly-efficient waterproofing solutions right to your doorstep; all you have to do is take advantage of them.
Our basement waterproofing service includes baseboard installation, waterproof paint, and egress window installation, and we can also install French drains to ensure your basement is good to go.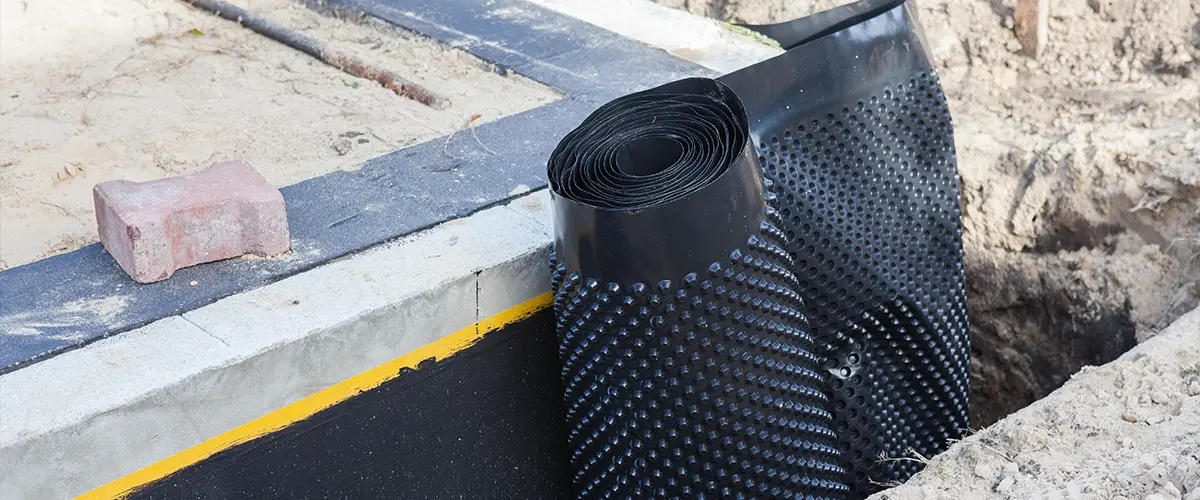 Basement insulation is a must if you want this space to be liveable. Basements are usually cold, and insulating it will ensure you're keeping it at a comfortable temperature for you and your loved ones.
There are multiple materials to insulate your basement with. Some of the preferred options are rigid mineral wool boards, high-density polystyrene (Type IV), and polyurethane/polyisocyanurate boards.
At Capstone Waterproofing Solutions, we'll show you the best materials in the market, and it's up to you to decide whether you want to best or save some money.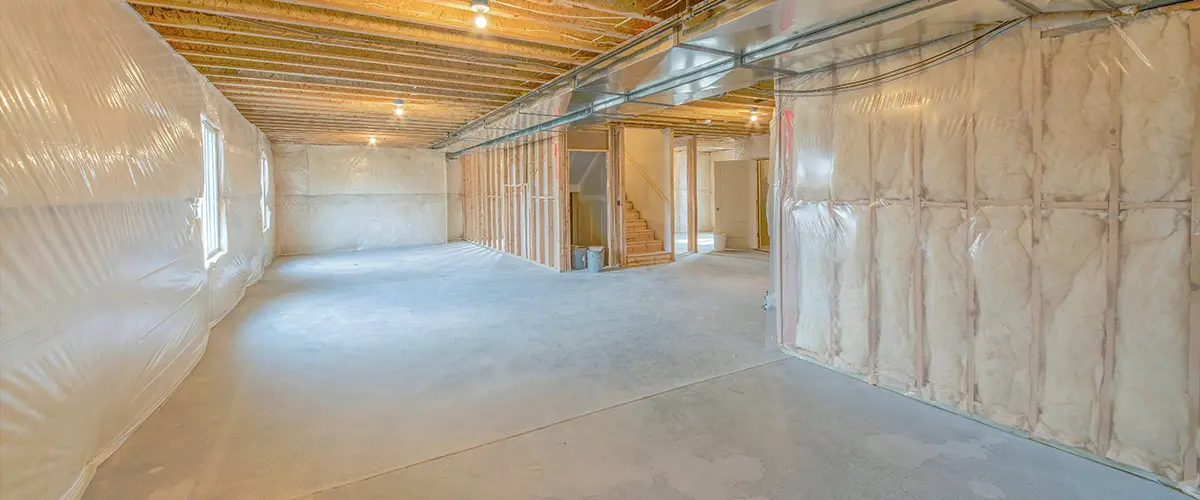 Electrical And Plumbing Installations
After the insulation, the walls, and the floor is finished, we'll take care of the electrical and plumbing installations. We work with licensed and insured electricians and plumbers to ensure your basement can accommodate all needs.
Whether you'll transform the space into a living space with a bathroom or a man cave, you'll have everything you need!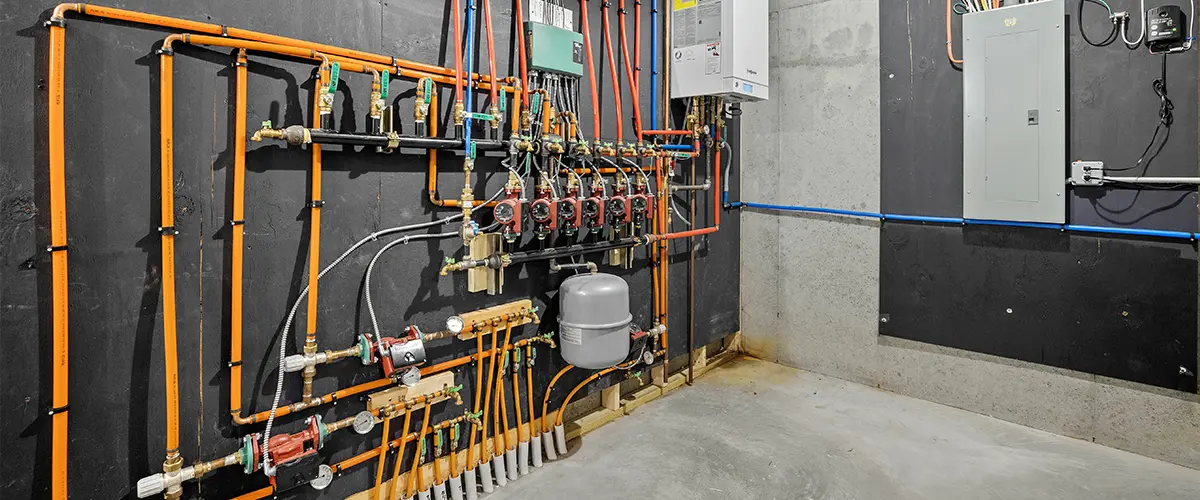 Hear Joe McPherson talk about the importance of finishing a basement!
A Highly-Efficient Basement Remodeling Process
Our basement finishing process is tailored with your needs in mind to ensure a speedy, effortless, and open experience. You'll always be aware of every detail that is taking place at each stage, without feeling confused or left in the dark!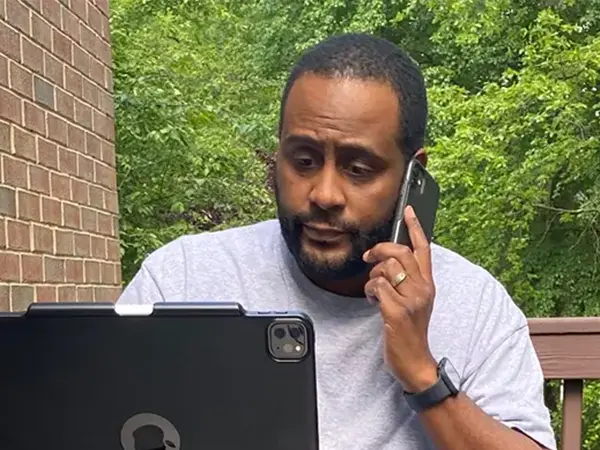 Get in touch with us, and let's discuss your project!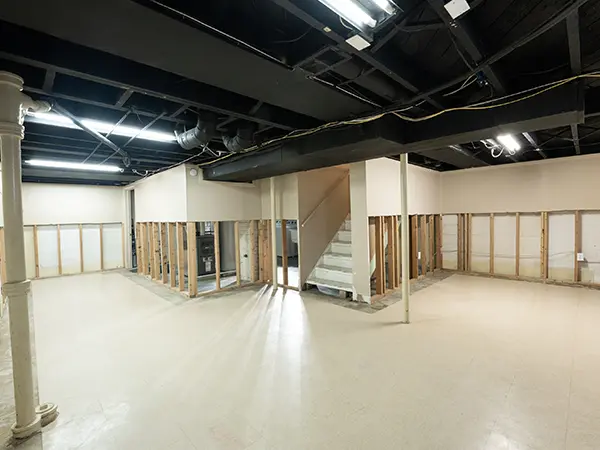 You'll fully control everything during the building phase.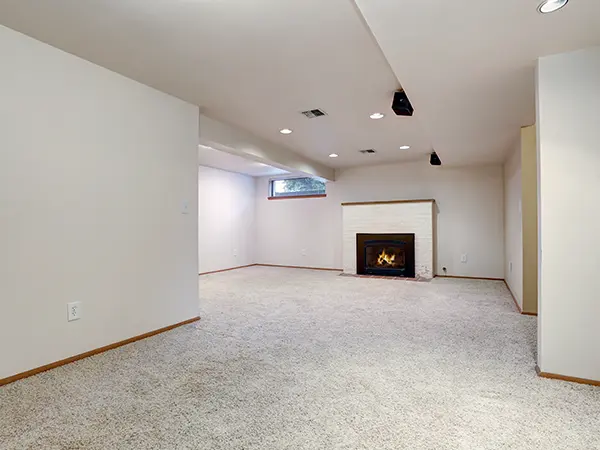 Enjoy your new, finished basement!
FAQs about Basement Finishing in Washington, DC
A Basement Finishing Project That Opens Many Opportunities!
If you've been putting off your basement finishing in Washington, now is the best time to start and reap all the amazing benefits of having a functional basement.
Capstone Waterproofing Solutions provides a high-quality service that sets you apart from others. Our team is 100% focused on your well-being and your project's success, so we'll go the extra mile to see your vision to fruition.
You'll go through a process tailored to your needs and concerns, and you'll constantly be in the driver's seat of your project, calling all the important shots.
With your local experts, you'll also get:
Get In Touch Today And Let's Get It Done!