The Best Foundation Repair In Lanham, MD
Looking to repair your foundation walls?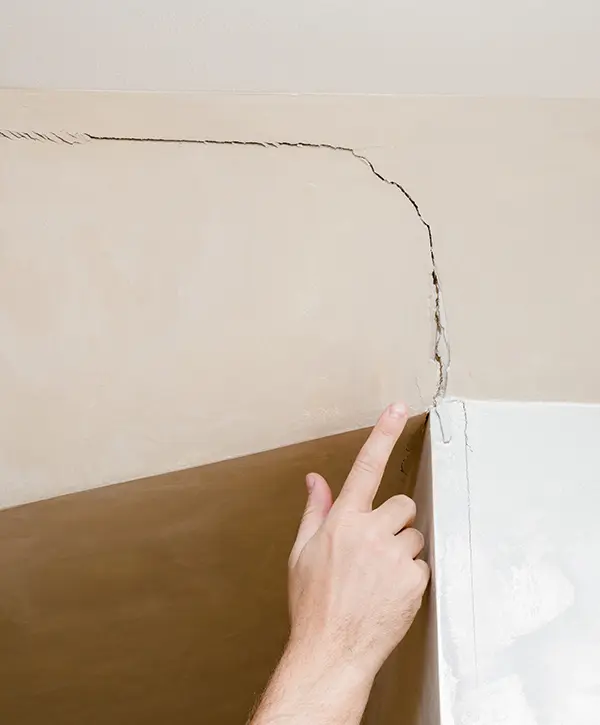 Foundation repair can do wonders for the integrity and stability of your house. 
From improving air quality through waterproofing to repairing foundation damage caused by moisture or soil shifting, there are many ways we can assist in making your home safe and healthy. 
Capstone Waterproofing Solutions offers foundation repair in Lanham, MD, focusing on doing an excellent job every time to help you avoid future problems with wet basements.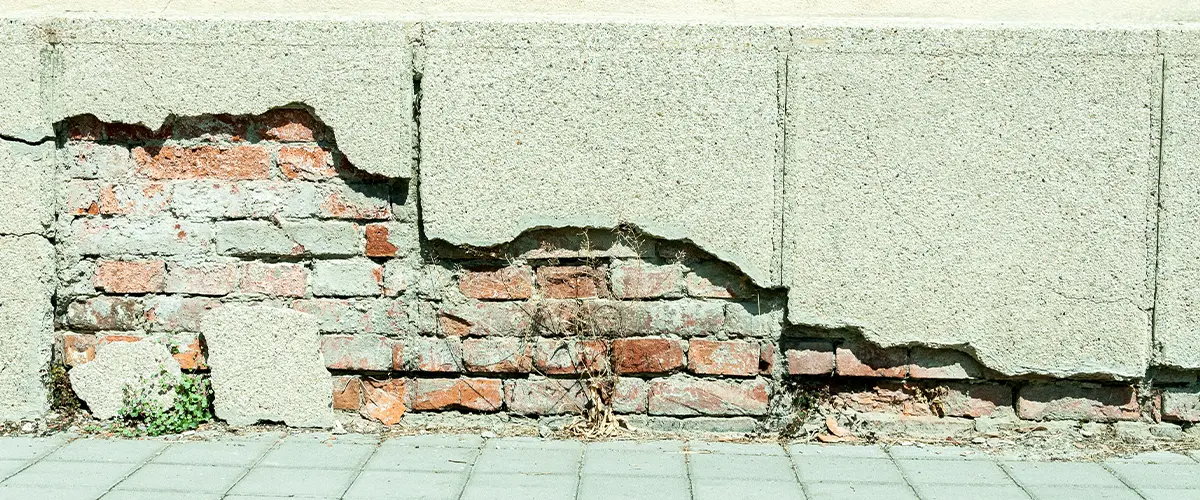 How Moisture Can Damage Your House's Structure
We take your foundation repair project a step further and deliver perks that no other contractor in the area even considers. We only care about your project's successful completion and you satisfaction, and we'll do everything in our power to achieve both!
Residents of Lanham, MD, Are More Susceptible to Foundation Damage
Any city, including Lanham, MD, is susceptible to foundation problems. Soil composition, age of the structure, and weather patterns are just a few of the variables that can affect the likelihood of your home's foundation suffering damage. Foundation problems are common in houses constructed on expanding soils, like clay.
The soil in Lanham, MD, is predominantly clay and loam, which expands and contracts based on the water present. This can cause soil to shift and settle, putting pressure on a building's foundation and increasing the risk of cracks.
In addition, the location receives an average amount of precipitation, which might worsen any existing foundation problems.
Keeping up with routine maintenance and inspections, ensuring adequate drainage, and monitoring moisture levels near the foundation can help prevent foundation damage. As foundation repair experts, we can identify problems in their earliest stages when they are easier and cheaper to fix.
Lanham Residents Love Having Us on Their Projects
Every home we serve has some foundation issues. Some smaller and insignificant, other more serious problems that require urgent repairs. We've helped many homeowners in Lanham, MD, and surrounding areas with their foundation repair projects, and all of them loved the results!
Capstone understands the science of waterproofing. This company gets it. Excellent service. 
Clean work, true professionalism, and willing to teach you about how their work is going to keep your basement dry. 
Big shout out to Joe and team! They really made us feel comfortable throughout the process. They are not trying just trying to sell you a service, they are helping you protect on of your most valuable investments , as well as your health. 
I recommend these guys in a heartbeat !
In June 2022, Capstone Waterproofing performed an awesome job waterproofing my basement. 
Joe exemplified optimal professionalism. He was very patient with explaining the work to be performed and responding to all my questions. The team that was selected to provide my service, arrived on time and completed the job timely as promised. 
They left my basement as cleaned as before their arrival. I am very satisfied with the outcome of the job performed and I would highly recommend Capstone Waterproofing.
Foundation Repair Is Complex and Requires Foundation Contractors
Repairing a foundation is a difficult task requiring expert labor and high-tech tools. Foundation repair contractors are highly qualified experts who can identify the source of the problem and devise a workable remedy.
Fixing foundation problems requires hiring professional foundation repair companies for various reasons:
At Capstone Waterproofing Services, we cover every aspect mentioned above, ensuring the clients we serve are 200% satisfied with their foundation repairs.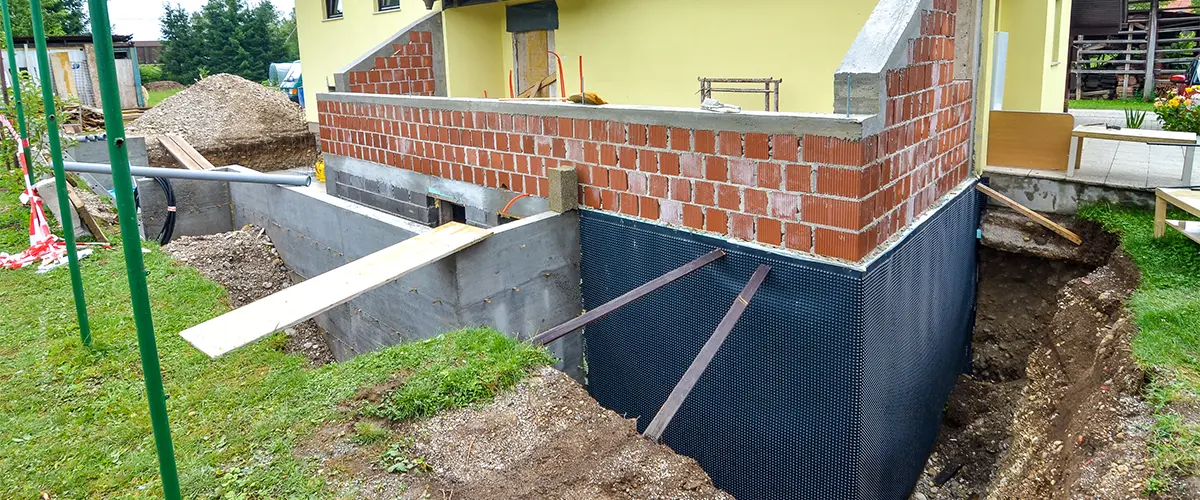 There Are Many Different Types of Foundation Repair in Lanham, MD
You have to factor in a series of variables when deciding on the most appropriate foundation repair method, such as the kind and amount of foundation damage, the state of the soil underneath, and the structure's unique features.
In most cases, the best long-term answer to support the foundation is to construct steel piers under your home, but this is also the most expensive option. Galvanized steel posts are used for this repair and hammered into the earth far below the structure's foundation. The piers can be dug as far as necessary to reach soil or bedrock with sufficient density to carry the load.
Steel piers are long-lasting fixes because they can support a lot of weight, are not picky about the soil they rest on, and can be driven into practically any surface soil.
When it comes to foundation repair or reinforcement, helical piers, also called helical piles, are among the most reliable options available. They are characterized by steel shafts equipped with helical-shaped plates. These are driven into the soil until they hit a stable, load-bearing stratum.
Suppose your foundation has sunk or shifted owing to shifting soil, fluctuating moisture levels, or any number of other circumstances. In that case, you may consider using helical piers to prop it back up. They are also useful for supporting new construction on unstable or weak ground.
Installing helical piers is a process that requires ground drilling to insert the pier. Foundation repair contractors also use hydraulic equipment to drive the pier into the desired depth.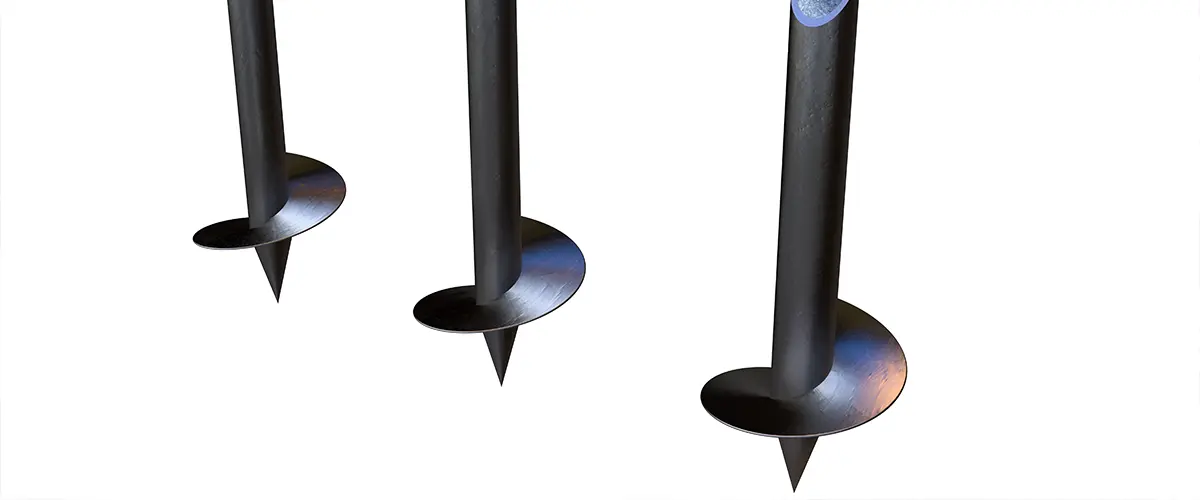 Fixing a home's foundation might also involve installing a system of concrete piles. They are reinforced concrete vertical columns set far below the base of the foundation to serve as extra support pillars.
Common methods for building concrete piles include boring a hole, placing a reinforcing cage inside the hole, and then filling the hole with concrete. Steel beams or brackets are then used to join the piles to the substructure.
There are several ways in which concrete piles might aid in repairing a home's base. If your foundation has shifted or settled owing to poor soil or another issue, they can help. They can also avoid additional settlement and structural damage by shifting the building's load to a more solid subsoil layer.
The foundation of a home can also be stabilized with poured-concrete piers. Concrete is poured into a hole bored into the soil below the foundation, creating vertical columns.
The process for installing these piers does share some similarities with the concrete pile installation. We need to drill a hole into the ground and insert a casing to pour concrete in the correct form. Steel brackets and beams will connect the pier to the foundation.
Thanks to poured concrete piers, we can transfer the structure's weight to a stable soil layer, stabilizing the foundation and preventing future structural damage. It's also a great method to employ when foundation levels have sunk.
After more extensive repairs have been made, the sealing of foundation cracks is normally done by professionals.
Polyurethane foam, hydraulic cement, or other sealants prevent ground and rainwater from entering a basement or crawlspace. When finishing a basement, it's important to seal cracks to prevent water damage to the finished walls.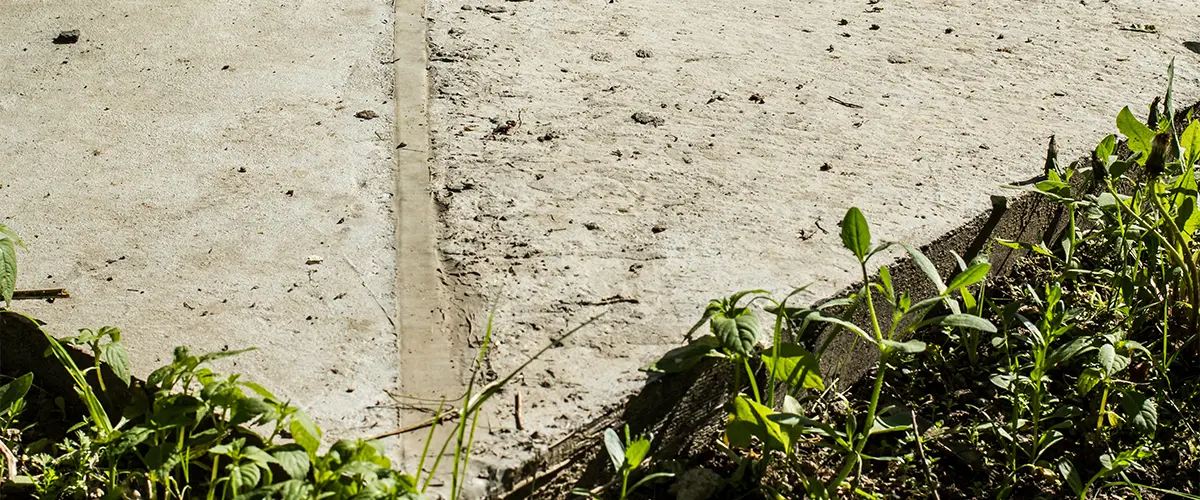 It's not uncommon for new houses to be built on land that wasn't properly compacted before the foundations were laid. Soil movement or erosion after construction is complete might cause separation of the foundation from the remainder of the house.
A foundation specialist or structural engineer may recommend using steel shims to bridge the gap and restore stability. Shims can be a long-term fix if the ground stops shifting beneath the house. Nonetheless, it's probably time for a more extensive fix if holes occur again.
Repairing sunken or uneven concrete slabs, such as those found in a home's foundation, can be done with slab jacking, sometimes known as mud jacking. Lifting a sunken slab requires injecting it with water, sand, and cement.
Slab jacking makes small holes in the sinking slab and fills them with this mixture pumped in through the holes. The pressure from the mixture filling the spaces under the slab restores its original position. The holes are mended, and the slab is leveled once the repairs are complete.
This can be an efficient method for restoring the foundation when a house sinks or settles because of compacted soil or settlement. But, it might not work if water or structural damage has already compromised the foundation.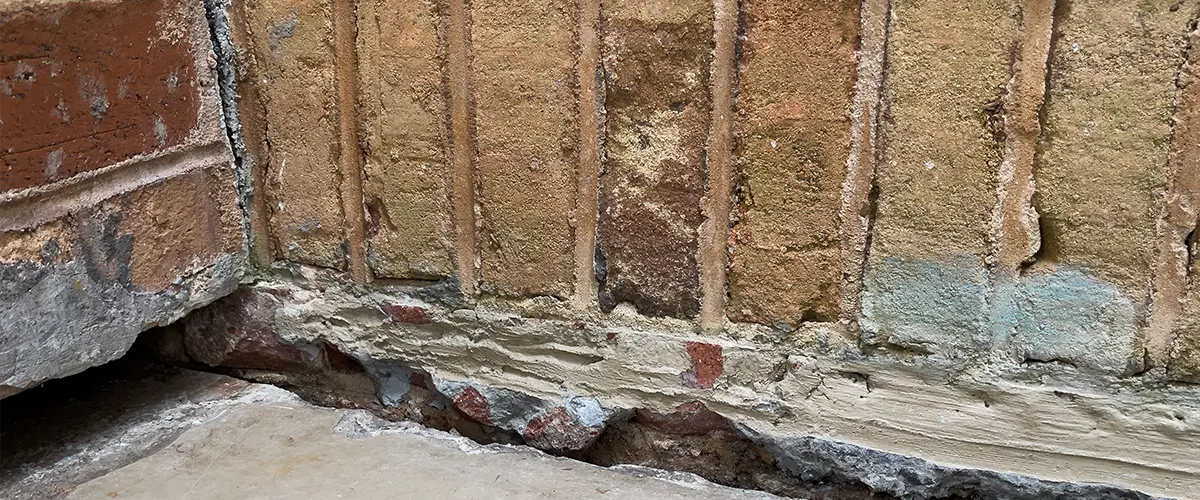 Discover the One-Stop-Shop for Foundation Repairs
Capstone Waterproofing Solutions offers more than your average local foundation repair company. We're all about helping you live in a safe and healthy home. We're foundation contractors who understand the dangers you expose yourself to when you have foundation problems.
You can trust us for services such as:
A Quality And Reliable Foundation Repair Process
This quick 3-step process is designed with your comfort and well-being in mind. We're efficient, highly trained, and reliable tradesmen that know everything there is to know about foundation cracks and how to repair them!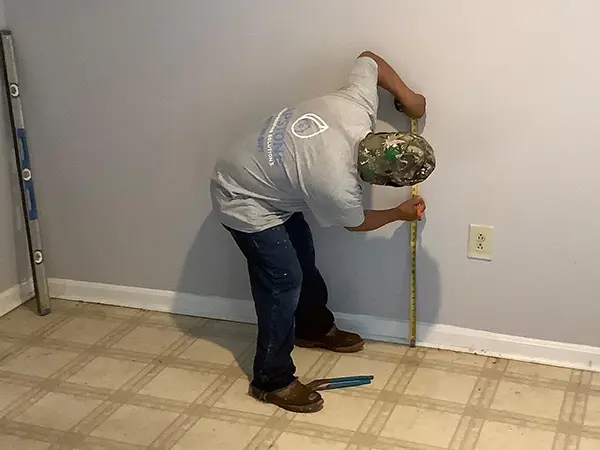 We inspect your basement and home to determine the best course of action.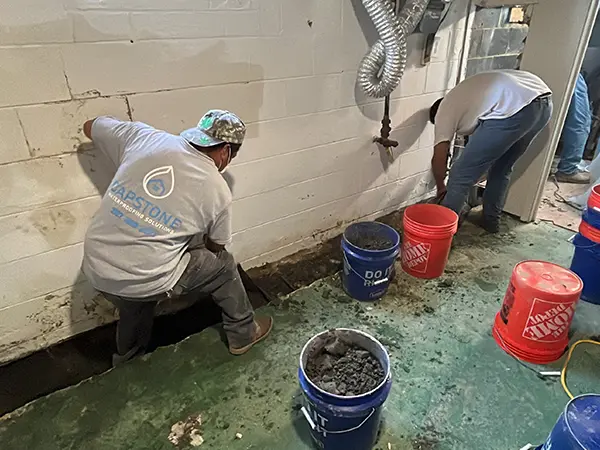 Our certified, trained, and skilled technicians get to work.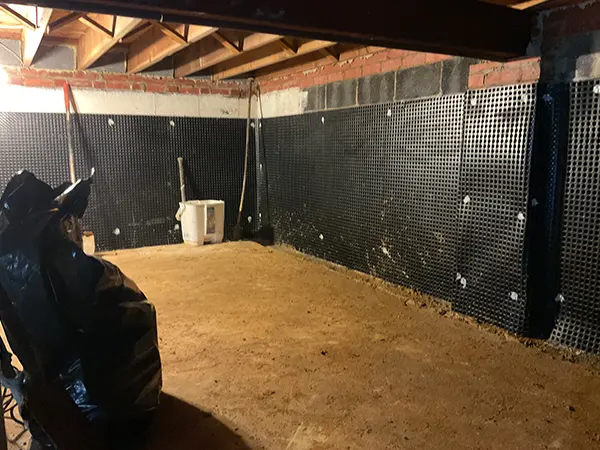 Enjoy living in a dry and healthy home free from mold hazards.
FAQs about Foundation Repair in Lanham, MD
Reliable Foundation Repairs That Give You Peace Of Mind
Living in a dangerous environment means risking the lives of the people you care about. 
Maybe you think a small crack in the wall is no big deal, but you don't know what you're dealing with until you get a professional on the job.
At Capstone Waterproofing Solutions, you get a proper home inspection so we can determine what causes the cracks. We'll fix the issue from the root and then ensure your home will be safe and sound for a very long time.
Here's what you'll enjoy when working with us:
Get In Touch Today And Let's Get It Done!